Newsletter Generator Utility
Introduction
Simply create Newsletters and Classified Ad postings using this Microsoft Excel based Newsletter Generator Utility. You can also create Flyers for parties and Store Advertisements for your business. This Newsletter Generator Utility is also useful for posting colorful and professional looking Event or Ad Listings on websites such as Backpage.com. Download the shareware version today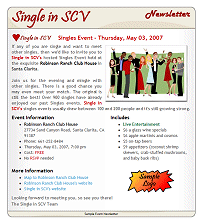 .
Includes the following:
• Sample Newsletters
• 27 different themes
• Integrated Help and Instructions
<< Click on the image to see a preview
Download
Newsletter Generator Utility Version 1.0.58 (1.08 MB)
Purchase
To purchase a Registration Code for the Shareware program, click on the BUY button below. All purchases are secure transactions using Paypal.

for only $12.00 US
All Sales are Final - We do not offer refunds for this program. Therefore, you are encourage to thoroughly evaluate the shareware program before you make a purchase.
Sample Newsletters
This program is supplied with five sample newsletters contained on the Newsletters sheet. These sample newsletters are examples on how to set up your newsletters. You can also use them as templates for creating new newsletters.
(1) Event Sample
(2) Event Sample - expandable-collapsible
(3) Event Sample - posting
(4) Auto Classified Ad Sample
(5) Auto Classified Ad Sample - web images
System Requirements
The following are the System Requirements for the Newsletter Generator Utility program.
Operating System
Microsoft® Windows 95, 98, ME, 2000, XP, Vista, or any 2003 Server version.
Internet Browser
Any Internet Browser, for example: Microsoft® Internet Explorer or Mozilla® Firefox.
Microsoft Excel
Microsoft® Excel 2000, 2002 (XP), 2003, or 2007.